To submit an event to this web site, please contact:
Tammy Bruckerhoff
tourism@hermannmo.com • 573-486-5400
_____________
CLICK HERE for live music and night life in and around Hermann.
Chocolate Wine Trail
February 22 - February 23
$30.00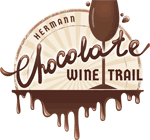 February 22nd and 23rd
Enjoy chocolate and wine pairings at seven stops on the scenic Hermann Wine Trail. Hours are 10:00 to 5:00 Saturday and 11:00 to 5:00 Sunday. A word to the wise — tickets sell out early for this popular Valentine's getaway.