To submit an event to this web site, please contact:
Tammy Bruckerhoff
tourism@hermannmo.com • 573-486-5400
_____________
CLICK HERE for live music and night life in and around Hermann.
26th Annual Kristkindl Markt at Stone Hill Winery
December 7 - December 8
FREE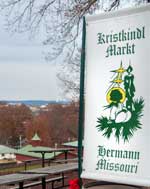 Traditional German Christmas market in Stone Hill Winery's heated Sherry House. Crafts, Christmas goodies, carolers, hot soups and mulled wine. Hours are 10:00 to 5:00 Saturday and 10:00 to 4:00 Sunday. Sponsored by Stone Hill Winery.