Known for its breathtaking river bluffs and rolling hillsides, Hermann is the perfect place for those wanting to enjoy beautiful outdoor views. As summer's heat begins to slowly fade, you can almost start to feel those crisp fall breezes. And while the days are still plenty warm, these late summer evenings give you a little break from sun's blazing stare. What better way to enjoy the nights than wining and dining al fresco? All of the Hermann-area wineries and several of its restaurants offer outdoor seating options, many with a great view!
Many restaurants, breweries, and distilleries right in the heart of Hermann's downtown provide outdoor seating for guests to enjoy. On Gutenberg Street, head back to the Tin Mill Brewery's outdoor biergarten to sample some of their cold, craft brews. If you need something a little stronger, Black Shire Distillery boasts a beautiful patio, perfect for basking in the sweet summer breezes while sipping their handcrafted spirits.
If you're strolling First Street, you'll find plenty of options with outdoor seating. Enjoy a delicious meal at the Tin Mill Steakhouse Restaurant from their shaded sidewalk seating area. You'll even be able to hear trains traveling along the river railroad! Stop in the Hermann Wurst Haus for a scrumptious and hearty meal that can be enjoyed from their generous outdoor seating section. They're even pooch-friendly and have a special menu for your furry friend! As you amble down the street, stop in Doxie Slush to grab a fabulous frozen cocktail that can be enjoyed from their comfortable outdoor couches—complete with heaters for cool fall evenings! Pop in Stomp'n Grounds as you're perusing the quaint shops along First Street for a soul-warming cup of coffee. Grab a table at their back patio next to the gorgeous water fountain and enjoy a bite to eat—it's so pretty, you'll feel like you've stepped onto the set of a movie!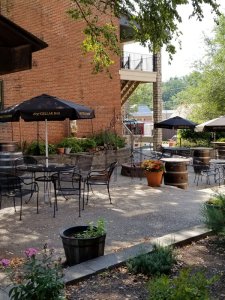 As you head down Schiller Street, you'll be able to enjoy a handcrafted cocktail from Fernweh Distilling Company's loft balcony that overlooks the Missouri River. You can head to the historic Bank Bar and relax on their cozy patio. Enjoy a cigar and a beverage from HogsHead Cigars & Fine Tobaccos outdoor seating area. On Fourth Street, grab a spot at Harvest Table's charming sidewalk seating for a top-notch meal. You can also head to the Hermann 1837 Wine & Craft Beer Bar and sip a beverage from their large outdoor patio with ample seating. On those chilly nights, what's better than a glass of Hermann wine by their firepit?
As summer melts into fall, don't let these beautiful days pass you by! Hermann's patio, balcony, and sidewalk seating options are perfect for soaking up the fresh air while enjoying delicious, high-quality meals and handcrafted, local beverages, and even a fine cigar!