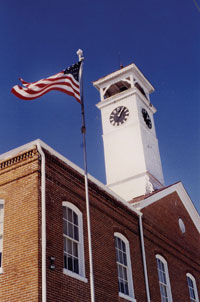 The Historic Hermann  Museum at the corner of Fourth and Schiller streets houses a diverse collection of objects that reflect the history and heritage of the Hermann area. Learn "why and how" settlers immigrated to Hermann from the 1830s well into the 1900s.
Located in the heart of the historic district, the museum is housed in the German School building, which was constructed in 1871 and served as Hermann's elementary school until 1955. The town clock has been operating continuously since 1890.
Highlights of the museum tour include:
HERITAGE ROOM—Handmade wooden grape crusher/wine press, wine bottles and a large variety of wine and beer labels all prior to Prohibition. A pre-Civil War weaving loom. An apple butter kettle and stir, Hermann shoe factory memorabilia. Display cases filled with early memorabilia and an arrowhead collection.
RIVER ROOM—Hermann was one of the busiest ports on the Missouri River. This room has an outstanding collection of photographs, data, instruments and boat models, plus, the original 7-foot pilot wheel and replica of the pilot house of the Pin Oak steamer, ca. 1888. More than 30 boats were built here and weekend excursions were regular family affairs.
KINDER ROOM—Depicts an early school classroom, historical kitchen and Victorian parlor. Dolls, toys and furniture, ca. late 1800s.
MUSIK ROOM—Collection of old musical instruments, early Hermann Band photos and uniforms. Formerly the Principal's office.
LEGACY ROOM—Story and statue of Hermann, Germany's first hero, who stopped the advancement of Rome. Beautiful needlework and clothes. Rare collection of handmade textile printing blocks. Antique quilts. Original handwritten 12 Apostles' Band music books.
ELS ROOM/TOOL ROOM—Hand-carved six-piece master bedroom set ca.1898 created by Louis Els. Many antique tools, a work bench and primitive furniture from the Friedrich Rohlfing family and a Schnitzelbank.
SCHWEIGHAUSER ROOM—Framed illustrations of Grimm's Fairy Tales, local redware pottery, an ornate church pump organ, Dresden pipes, immigrant trunk, a slave quilt and children's toys.
CLOCK TOWER GIFT SHOP—Unique souvenirs, gifts and books on early Hermann immigrant history, river boat history, German cooking and Hermann/Arminius, the man, and the battle that changed history.
Open April through October
Monday, Tuesday, Thursday, Friday & Saturday — 10:00 to 4:00
Sunday — Noon to 4:00
Closed Wednesday

Also open festival weekends and first two weekends of December