This Saturday, July 20th, don't miss out on an impressive and memorable performance at the Showboat Community Theater. Gitana Productions, a not-for-profit arts and education organization serving the St. Louis region, will be putting on the production of "An Amazing Story: German Abolitionists in Missouri." The show highlights the close ties between early German immigrants, many of whom sought freedom from oppression by moving to the United States, and the enslaved African Americans living in the country. Many of these immigrants, who often spoke little to no English, understood that the abolishment of slavery was imperative to America's growing democracy. These German abolitionists were often disliked by Missouri slave owners, but many were persistent, with some even starting newspapers spreading their political ideology and messages of equality.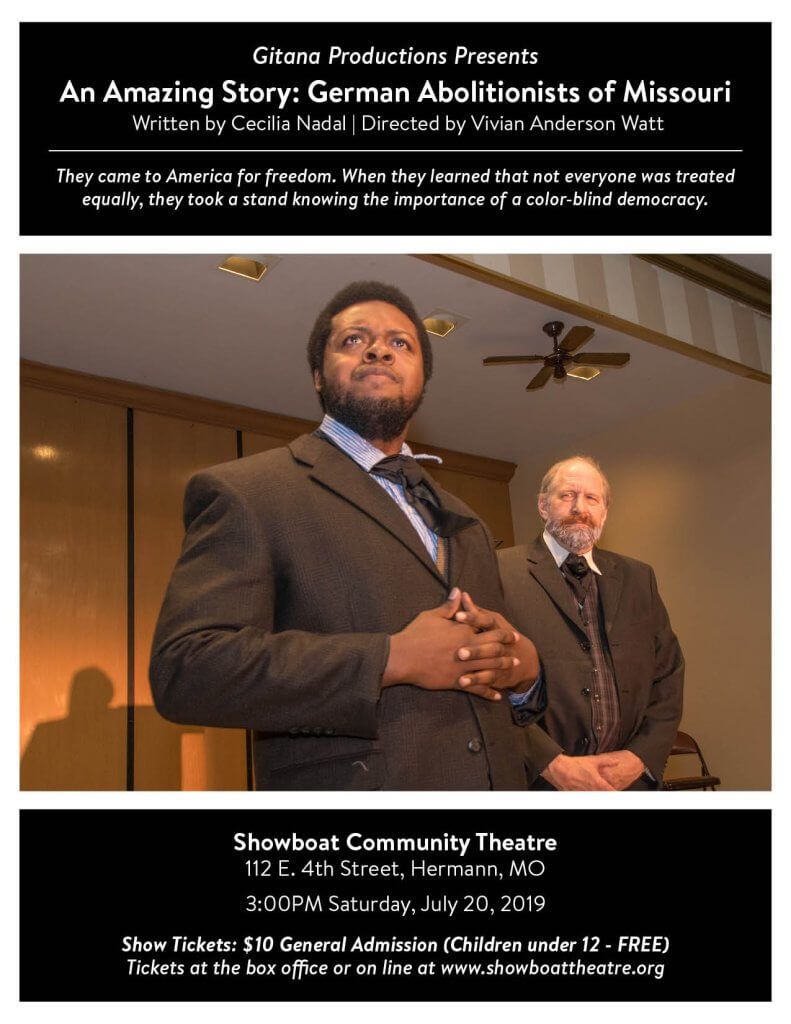 A unique glimpse into German American history
The work of the talented and diverse creative team expertly depicts for the audience what these early immigrants experienced, offering a special opportunity for viewers to see into the past. The actors, whose impressive work will captivate you and draw you into the fascinating story, range from aspiring young actors and singers to those whose experience spans more than 25 years. The show even features actors who speak fluent German!
After the show, the audience will have the chance to participate in a question and answer session with the show's actors, playwright, and historians to learn more about these abolitionists and their experience. Tickets for the show are $10 and can be purchased online at showboattheatre.org or at the door. You can see the show this Saturday, July 20th, at 3:00pm. To learn more, visit the Showboat's website. Don't miss your chance to see "An Amazing Story: German Abolitionists in Missouri" this weekend, in Hermann.