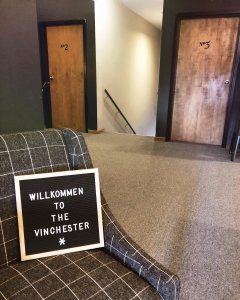 A Hermann fixture since 1996, the Vinchester Inn—lovingly known as "The Vin"— has provided visitors with comfortable and affordable lodging for over 20 years. As of Spring 2018, the 11-room hotel has been under the ownership of three sisters who have stepped in to stylishly renovate and modernize the space.
The hotel's location in the heart of Hermann's popular historic district, conveniently places guests within walking distance to several restaurants, shops, bars, and wineries. You can even catch the nostalgic Hermann trolley, which makes a stop right in front of the Vin! Perfect for couples on a weekend getaway, groups exploring wine country, or even wedding parties, the hotel offers private, off-street parking for lodgers.
Modern amenities and historic charm
Designed to be a simple, serene space for guests, the Vinchester Inn boasts contemporary hotel amenities. Each room is tastefully decorated and furnished with plush, high-end bedding, a Bluetooth alarm clock, mini-fridge and microwave, and a flat screen television. The private bathroom features small appliances and lavish Beekman 1802 bath products for its guests. In addition to a beautiful patio for guests to gather and relax, rooms with balconies are also available if you're looking for a private outdoor space.
Beyond the lodging experience
While the Vinchester Inn has been thoughtfully remodeled to give guests a comfortable, relaxing space, its owners provide even more than lodging. As members of the local community, the sisters running the Vin want visitors to get the most out of the Hermann experience. Having crafted a fun and welcoming environment in their hotel, they extend their dedication to guests by helping them plan their perfect Hermann stay. Before visiting, you can browse the "Planning Your Trip" section of their website for recommendations on everything from shopping and dining to wineries and nightlife. They even include information about outdoor adventures and historical tours in the area to ensure you get to experience the wide variety of activities in Hermann.
Plan your unforgettable stay
The recently-renovated hotel in the middle of the charming Hermann Historic District is perfect for anyone looking for a relaxing getaway to Hermann wine country. The Vinchester Inn provides guests with an affordable yet elegant space close to all Hermann has to offer. Follow @vinchesterinn on Instagram to check out stunning photos of the hotel, favorite Hermann spots, and area events. They even offer occasional giveaways! Visit https://www.vinchesterinn.com to plan your Hermann getaway and book your reservation—you'll love it here!