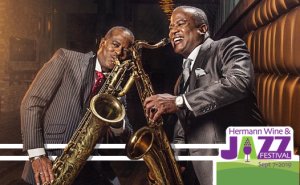 Celebrating the legacy of jazz and enhancing your wine tasting experience is the Hermann Wine & Jazz Festival. With live music from the heart of Missouri's Wine Country, the event is Missouri's only Wine & Jazz Festival. What started as a one-day event in 2015, the free festival has expanded this year to be a 3-day event that now features performances by over 30 world-class jazz artists. With the goal of pairing the region's finest jazz and blues musicians with its delicious, award-winning wines and culinary delights, the Hermann Wine & Jazz Festival guests will thoroughly enjoy their experience in Missouri's picturesque Wine Country.
The event, which offers free admission, runs from Friday, September 6th to Sunday, September 8th. Allowing visitors to explore several parts of Hermann, each day of the event takes place at a different Hermann establishment, ensuring that you'll get to check out some awesome places in town!
Sept. 6—Local jazz in a stunning venue
Kicking off the festival at the richly-historic, 1837 Wine and Craft Beer Bar in the cellars of the Hermann Crown Suites is Friends of Aaron, Hermann's local jazz band. Creating the perfect ambiance for the group's unique sound, you'll love the gorgeous space, complete with a handcrafted bar designed by local craftsmen. Stop in and have a listen to Friends of Aaron starting at 8pm!
Sept. 7—World-renowned jazz performances & award-winning wines
Day 2 of the festival begins Saturday afternoon at the Hermann Amphitheater with a full lineup of award-winning and world-class musical varieties and delicious choices from area food and wine vendors. The event starts with an educational panel held by key industry personnel on the musical genre, so you'll be able to learn a little about jazz, further enhancing your listening experience and appreciation.
Throughout the afternoon, several iconic performers will play leading up to the high-energy headlining performance by The Bosman Twins, internationally-renowned and Emmy award-winning jazz legends.
Sept. 8—Local tunes and eats with picturesque river views
The third day of the festival, presented by the Hermann Arts Council, features Hermann's own Retired Judge John Berkemeyer's Band from 1-4pm. Mouth-watering area foods and spectacular wines will be available for purchase at the historic Gasconade County Courthouse throughout the afternoon.
Getting here and staying for the weekend
As Missouri's only weekend wine and jazz festival, Hermann is just where you want to be September 6-8. The free events are all conveniently located in the heart of town, perfect for those wanting to explore all the area has to offer. With Amtrak's Missouri River Runner making 4 stops a day from Kansas City and St. Louis, and its location within walking distance to the festival, it's a great opportunity for a weekend getaway.
For those wanting to stay and check out all the Hermann area's wineries, German cuisine, and stunning hillside and river bluff views, there are over 300 guests rooms available in the charming town, from luxury, high-end suites to comfy and cozy B&Bs. Check out all of our lodging options here.
For more information about the 5th Annual Hermann Wine & Jazz Festival, and to see a complete lineup, visit the Wine & Jazz Festival's website. For more photos and to stay up-to-date on festival information, follow Hermann Wine & Jazz Festival on Facebook, @hermannwinejazzfest on Instagram, and @hermannwinejazz on Twitter. Don't miss out on this free, weekend-long event and the chance to stay in beautiful Hermann, MO!