Black History Month to be Officially Recognized in Hermann
Hermann has an especially fascinating history of facilitating acceptance and change in a developing America. The relationship between German immigrants and enslaved African Americans is one of unity. This area was home to many brave German immigrants who fought for their freedom as well as that of others. As early advocates for a color-blind democracy, Hermann stood out by boldly speaking out against slavery, pointing out its immorality and treating African Americans in a more civil manner.
A new tradition of distinguishing Black History Month observance in Hermann is certainly due, and the Hermann area offers local events that can be supported in February.
Follow Hermann's upcoming events for additional activities at local businesses that are joining in for Black History Month.
Saturday, February 29
Hermannhof Festhalle | 237 East 1st Street, Hermann
Free admission, registration is required
Topic: Contributions of Germans towards the Abolition of Slavery before and during the Civil War and relationships with African Americans then and now.
What: The Symposium features highly regarded historians and scholars who will share this little-known history joined by a sociologist and playwright. There will be music from representatives of the German and African American community as well as an excerpt from the play AN AMAZING STORY: GERMAN ABOLITIONISTS OF MISSOURI.
For Registration: Visit mohumanities.org or call the Hermann Welcome Center at 1-800-932-8687.
It is relatively unknown that German immigrants took an early stand against slavery in Missouri. As early as 1835, German newspapers in our State spoke out against slavery. In addition, Germans joined the Union in large numbers and helped the Colored Infantry to start Lincoln University. Members of the humanities community including historians, activists, and a playwright will discuss the complex relationship between Germans and African-Americans before and after the Civil War. The symposium will also include musical performances and an excerpt from the play An Amazing Story: German Abolitionists of Missouri.
An Amazing Story: German Abolitionists of Missouri is an original play about the role of German immigrants in the fight to end slavery, it's written by Cecilia Nadal and produced by Gitana Productions. The play touches on the work of real historical figures such as Friedrich Munch, Judge Arnold Krekel and August Boernstein. German immigrants who settled in St. Louis in the mid-1800s tended to be vocal about their advocacy for the end of slavery, Many pledged their allegiance to the Union during the Civil War and became Union soldiers, though, of course, "some immigrants set aside their values in order to survive and be accepted during the period before and after [the war]," as Cecilia Nadal wrote about the play. An Amazing Story: German Abolitionists of Missouri first toured Missouri in 2019, visiting the Hermann Showboat Community Theatre on July 20th. The production has plans to tour the state, and Hermann, again this year.
Symposium attendees are also invited to take a special tour of Deutschheim State Historic Site, at 101 W. Second Street, available from 10:00 AM to 12:00 PM. Learn more about the Hermanner Wochenblatt, the German-language, anti-slavery newspaper from 1845. On exhibit at the Deutschheim Visitor Center will be one of only three, original, signed, 1865 Ordinances Abolishing Slavery in Missouri. Hermann's history preserved by the Deutschheim State Historic Site regularly serves as inspiration for modern focuses on this topic.
The Symposium distinguished panel includes:
Dr. Gary R. Kremer, Executive Director of the State Historical Society of Missouri

Kremer has written, co-authored, and co-edited eight books, including the recently released Women in Missouri History: In Search of Power and Influence, A Dictionary of Missouri Biography (1999), A History of Missouri, 1875-1919 (1997), and Missouri's Black Heritage (1993).
Dr. John A. Wright, Fulbright Scholar, Historian and Educator

Author of thirteen books including Kinloch: Missouri's first Black Town, The Ville, St. Louis, Missouri (Black America Series) Dr. Wright has a distinguished career serving as an academic leader within public schools in St. Louis and as a board member of the St. Louis World Trade Center and the St. Louis, Missouri–Senegal Sister Cities Committee.
Dr. Sydney Norton, Associate Professor, Saint Louis University's Department of Languages, Literatures and Cultures

Author of the publication German Immigrant Abolitionists: Fighting for a Free Missouri and curator for the exhibit by the same name.
Cecilia A, Nadal, Sociologist, Playwright and Consultant

Founder of Gitana Productions, a 22-year arts organization bringing diverse communities together through cross-cultural engagement. President of Cross-Cultural Strategies Inc., a consulting and training firm. Playwright of An Amazing story: German Abolitionists of Missouri.
Sponsors: This event is being sponsored by the Missouri Humanities Council and Cross-Cultural Strategies Inc. in collaboration with Visit Hermann, the Deutschheim State Historic Site and the Showboat Community Theater celebrating Black History Month.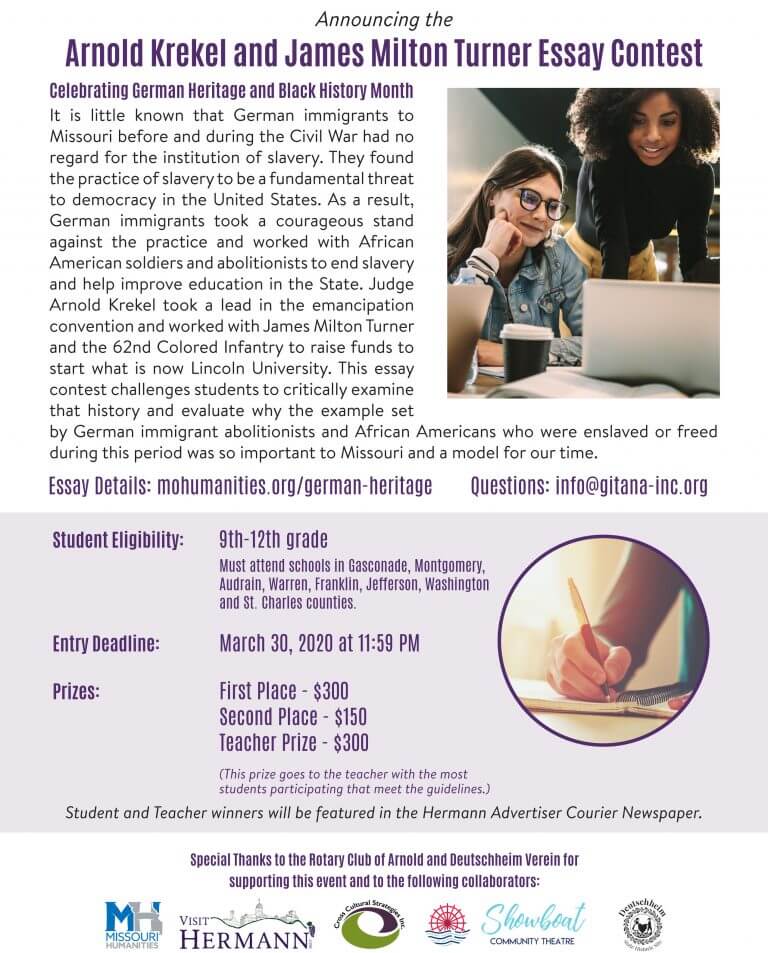 Saturday, February 22
Showboat Community Theatre | 112 East 4th Street, Hermann
Tickets: $10 in advance (purchase online) | $15 at the door
Jazz is indisputably the musical contribution of America to the world and it is the gift of African Americans to our nation. During this first Black History Month celebration in Hermann, you are invited to hear great music and learn about some of the superstars of Jazz.
Friends of Aaron take the stage for an evening of music, history and cultural discussion. They will feature compositions from across the genre, including classics by Buddy Bolden, Louis Armstrong, Sidney Bechet, King Oliver, and more.
Showtime 7 PM • Doors open at 6:30 PM
All ticket sales go towards the Showboat Community Theatre restoration fund. Tickets are non-refundable. The Theatre is a 501(c)(3) not-for-profit organization.
Celebrating German Heritage and Black History Month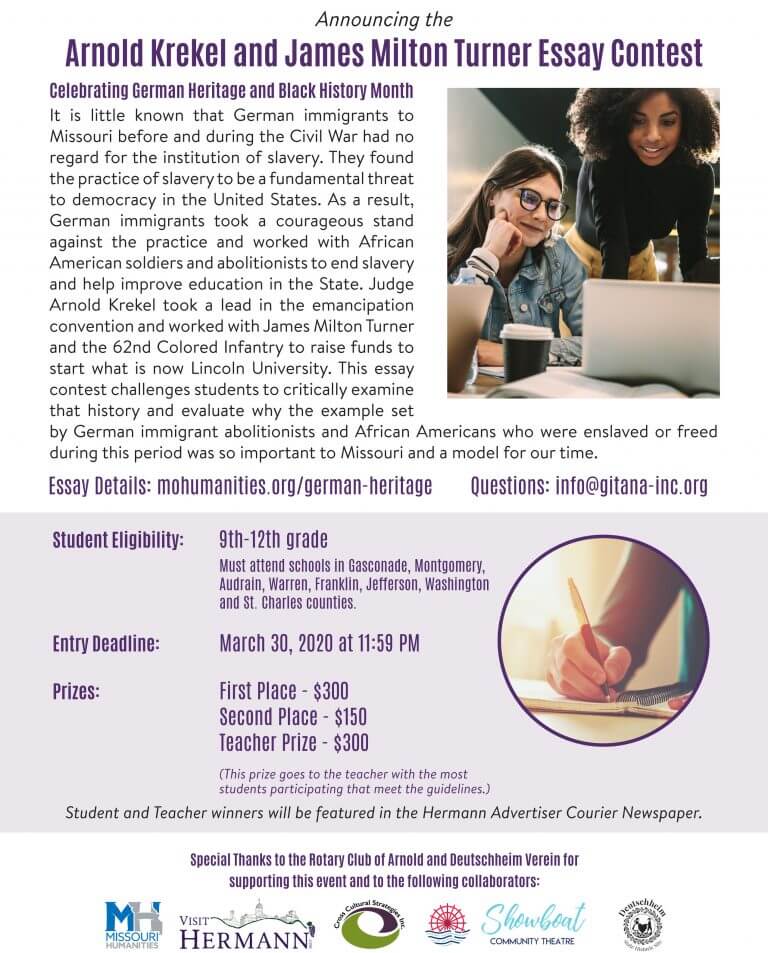 It is little known that German immigrants to Missouri before and during the Civil War had no regard for the institution of slavery. They found the practice of slavery to be a fundamental threat to democracy in the United States. As a result, German immigrants took a courageous stand against the practice and worked with African American soldiers and abolitionists to end slavery and help improve education in the State. Judge Arnold Krekel took a lead in the emancipation convention and worked with James Milton Turner and the 62nd Colored Infantry to raise funds to start what is now Lincoln University. This essay contest challenges students to critically examine that history and evaluate why the example set by German immigrant abolitionists and African Americans who were enslaved or freed during this period was so important to Missouri and a model for our time.
Essay details: mohumanitites.org/german-heritage
Questions: info@gitana-inc.org