2017 Holiday House Tours
Beautiful historic properties in and around Hermann have decked the halls and are ready to welcome visitors. Tour at your leisure, then enjoy refreshments at The Bank Bar's Venue 115. Sponsored by the Hermann Area Chamber of Commerce.
Saturday, December 2
Hours: 2:00 to 7:00 p.m.

Purchase tickets ($10 per person) from the Welcome Center

holiday-house-tours
Autzie's Riverview Cottage
111 Gellert Street
Built in 1850 on Hermann's historic East Hill, Autzie's Riverview Cottage was the home of the owner Danette Bader's grandparents, Mark and Autzie McGuire, for more than 40 years. Thift store finds have been used to create a shabby chic, farmhouse. Be sure to check out the original 19th-century architecture— exposed brick and timber walls in the bedroom, pocket and French doors, original hardwood wide-plank flooring, tall ceilings and wine cellar.
I have so many wonderful, magical memories of spending time here, especially during the holidays. The cottage has been lovingly decorated as a tribute to an amazing woman who touched the lives of everyone who knew her.
Langille Family Home
George Klinge House
304 West 7th Street
Born in Marburg, Hesse, Germany in 1809, George Klinge immigrated first to Maryland, then to Maysville, Kentucky, before coming to Hermann. He was a bricklayer and maker whose business produced some 465,000 bricks per year, generating an annual profit of $1,000—a lot of money back then! He also produced wine in the barrel-vault brick cellar. The handsome Georgian-style house was built between 1858 and 1860, with a one-story brick addition in the 1870-1880s, and a frame addition around 1900. In typical German style, the house is built close to the street to allow for a larger garden.
We are in love with this old home. The more people in it, the happier it is.
Peterson Family Home
Le Chambre Jacquin (The Jacquin House)
500 East 2nd Street
The lot for this home was purchased in 1837 for $50 as part of the Philadelphia Society's original settlement. The kitchen, sitting room and dining room are part of the original 1800s home. The next addition was in 1910 when the property, then called Villa Moebus, was the home of the owner of the Concert Hall and Barrel Bar. In 2000 the present owners added a first-floor living room, master bedroom and bath and basement.
We hope you will enjoy our our attempt to honor some of the old and add some new to create a home as charming as the town in which it was built.
Cockrill Family Home
Formerly 6th Street Guesthouse & Suites
234 West Sixth Street
This charming historic home was built by George Reith around 1849. The east side of the house was added in 1884, and over the years, the home has gone through several renovations. In 2014, it was opened as a guesthouse, complete with a winding staircase leading to an upstairs loft bedroom and Old-World guest bath, both featuring exposed, original soft brick. Now a family residence, the home retains many of its original characteristics, including a slate roof, wood flooring, brick, and smokehouse in the courtyard.
We hope you enjoy touring this delightful piece of Hermann history!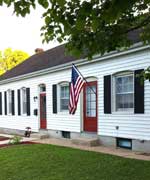 Venue 115 at the Bank Bar
115 Schiller Street
Please stop by during the tour for warm cider, hot cocoa, and a Christmas cookie! Located at the corner of Schiller and East 2nd streets in the historic district, Venue 115 will be filled with holiday cheer. You won't be disappointed!
Hosted by Constance and Wayne LaBoube