Hermann Heritage Days

September 17 & 18, 2016

Heritage Days is a city-wide celebration of the heritage and history of Hermann and the surrounding area. Not limited to any one specific venue or happening, the weekend of September 17-18 invites visitors to experience Civil War reenactment units, camps, and several small reenactment skirmishes, including the capturing of the Rhea County Spartans!All happenings and events will be listed no later than September 1.
---

Reenactor Camps:
Riverfront Park
Sesquicentennial Park
Upper City Park
Reenactor Headquarters:
White House Hotel, 232 Wharf Street
Grand Ball: 
Rotunda Building, upper city park
Saturday, September 17, 8:00 p.m.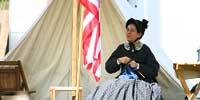 Rhea County Spartans Capture: 
Saturday — 10:00 a.m.
Historic Hermann Museum
Sunday — 10:00 a.m.
Deutschheim State Historic Site
Battles:
Saturday— 2:00 p.m.
Sunday— 2:00 p.m.
Artillery Duel
7:00 p.m. — Riverfront Park
Officers Call
Saturday & Sunday, 8:00 a.m. — White House Hotel
Church Service
Sunday, 8:45 a.m. — White House Hotel
There will be additional skirmishes throughout town
---
White House Hotel
Headquarters for the reenactment units
232 Wharf Street
---
Deutschheim State Historic Site
"Slavery is nothing other in our republic but the representation of the privileged aristocracy and tyranny, comparable to the actions of the princes in Germany." —Eduard Mühl, Editor Hermanner Wochenblatt
German Immigrant Abolitionists: Fighting for a Free Missouri is a free special exhibit at Deutschheim State Historic Site's historic Feldmann-Stark House, 109 West Second Street.
The passionate anti-slavery beliefs of many German immigrants in Missouri originated in large part from their experiences as young, idealistic revolutionaries. Having fought for Germany's freedom from Napoleonic rule and later unsuccessfully against the despotism of the German princes, they came to Missouri to escape oppression, excessive taxation, prohibition of free speech, no voting rights, and few opportunities for land ownership.
Well-educated and outspoken, their ideals developed out of a rich tradition of political theory, debate, and activism. Possessing strong ideals about American freedom and democracy, many Germans were distraught to find that slavery was a legal and accepted practice in Missouri.
Guided tours of the historic site are offered at 10:00, 12:30 and 2:30. Tours are $5.00/adult, $3.00/youth.
Hours: 10 a.m. to 4:00 p.m. Saturday and Sunday
---
Historic Hermann Museum
Built in 1871, the German School Building at the corner of Fourth and Schiller streets served as Hermann's elementary school until 1955. For much of its history, the school was bilingual, with classes taught in both English and German. Today the building has found new life as the Historic Hermann Museum. A beloved symbol of the city, the building's clock tower has faithfully served the townspeople of Hermann since 1890, tolling the time every hour on the hour.
---
Hermann Farm
Experience 168 years of Missouri farm history, preserved on over 160 acres. Once the home and office of wine pioneer George Husmann, the recently restored farmstead is ready to tell stories of the past.
---
Stone Hill Winery
Missouri's indigenous Norton grape played an important role in our state's history and the world's wine industry, eventually being named Missouri's state grape in 2003. We are fortunate to have a tiny 1/4 acre vineyard of Norton grapevines that were planted around the time of the Civil War. Once in a great while, these shy bearing Ancient Vines produce enough grapes for a barrel or two of our Old Vine Reserve (OVR) Norton wine—a reminder of a time when Missouri Norton was King of American dry red wine and named "Best Red Wine of all Nations" at the 1879 Vienna World Exposition. Come visit with our costumed associates and learn about our History in a Bottle. Prost!
---
Talley & Company Antiques
A Heritage ChristmasTree from Old Hermann
A special exhibit created just for Heritage Days celebrates Hermann's German roots with a gloriously decorated Heritage Christmas Tree. See a display of ornaments, from sentimental handmade treasures to small works of art created by the famed glassblowers of Germany.
Rare tin angel chime tree topper from Solingen, Germany
An array of fanciful glass ornaments
Decorations of tinsel, spun cotton, spun glass, wire, paper, and wood
Tree candles and candleholders.
Plus many more memories from Hermann's Christmas past
101 Schiller Street
Hours: 10 a.m. to 5:00 p.m. Saturday; 10 a.m. to 4:00 p.m. Sunday
---
Time for Memories and Blondie's Doll Museum
Located on Schiller Street
Free classes for children featuring toys boys and girls played with in Civil War days. Boys will make their own buzz saw or whirligig, a noisemaker made from a button on a string. Girls will make a tied handkerchief doll or church doll using muslin, string and ribbon. There also will be stories of how children played and spent their time.
More to Explore…