Hermann Heritage Days
Join a city-wide celebration of the historical heritage and significance of Hermann and the surrounding area. Sponsored by the City of Hermann.
September 9-10, 2017
Deutschheim captures the culture and heritage of the Germans who migrated to Missouri in the mid- to late-19th century through exhibits and galleries of changing artifacts and photographs. Visitors are invited to tour two historic homes and to stroll through the four-square demonstration gardens.
Currently on display are photos taken by Edward Kemper from 1895 to 1920.
107 West Second Street
Open Saturday and Sunday, 10:00 to 4:00
---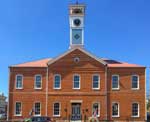 Located in the heart of the historic district, the Historic Hermann Museum is housed in the German School building, which was constructed in 1871 and served as Hermann's elementary school until 1955. The town clock has been operating continuously since 1890.
A series of museum rooms hold fascinating treasures from Hermann's past.
Corner of Fourth & Schiller
Open Saturday 10:00 to 4:00; Sunday noon to 4:00
---
Located on 200 rolling acres, this living history farm celebrates the importance of the German settlement to the development of agriculture in the Missouri River Valley region.
A Saturday presentation on black powder marksmanship will include safety lessons, hands on practice, early black powder history and Civil War firearms. Tours of the farm will include a peek inside the Schuetzenhalle, dedicated to early Hermann Sharpshooters.
526 East First Street
Open Saturday 10:00 to 5:00; Sunday 12:30 to 5:00
---
Established in 1847, well before there was a Napa Valley wine industry, Stone Hill grew to be the second largest winery in the United States. Its wines were world renowned, winning gold medals in eight world's fairs, including Vienna in 1873 and Philadelphia in 1876. By the 1870's, the winery was shipping 1,250,000 gallons of wine per year. Stone Hill's labyrinth of arched underground cellars are the largest in North America.
1110 Stone Hill Highway
Open Saturday 10:00 to 7:00; Sunday 11:00 to 5:00
---
Historic District Walking Tour (Deutschheim to German School)