Hermann Heritage Days

Join a city-wide celebration of the historical heritage and significance of Hermann and the surrounding area.
September 14-16, 2018
The Missouri Civil War Reenactors Association will have camps at Hermann Farm and the White House. Activities will include:
Living history displays and demonstrations
Civil War battles
Cannon night firing
Evening ball at the White House Hotel courtyard
Lantern tours
Reenactment of the Battle of Hermann
Deutschheim captures the culture and heritage of the Germans who migrated to Missouri in the mid- to late-19th century through exhibits and galleries of changing artifacts and photographs. Visitors are invited to tour two historic homes and to stroll through the four-square demonstration gardens.
107 West Second Street
Open Saturday and Sunday, 10:00 to 4:00
---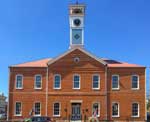 Located in the heart of the historic district, the Historic Hermann Museum is housed in the German School building, which was constructed in 1871 and served as Hermann's elementary school until 1955. The town clock has been operating continuously since 1890. A series of museum rooms hold fascinating treasures from Hermann's past.
Corner of Fourth & Schiller
Open Saturday 10:00 to 4:00; Sunday noon to 4:00
---
Experience farm life in 1850s Hermann on a 200-acre living history farm. Once the home of George Husmann, world-renowned pioneer in the American wine industry, Hermann Farm is now an open-air museum dedicated to preserving and presenting the unique agricultural, social, and economic history of the German immigrants who settled the lower Missouri River Valley in the mid-1800s.
Farm attractions include tours of the restored Husmann home, shire horses, white mules, and tram rides to the farm's distillery log house and office, sweet springs, trading post, Schuetzenhalle, tinsmith shop, broom maker's shop, woodwright area, and gardens
526 East First Street
Open Saturday 10:00 to 5:00; Sunday 12:30 to 5:00
---
Historic District Walking Tour (Deutschheim to German School)