To submit an event to this web site, please contact:
Tammy Bruckerhoff
tourism@hermannmo.com • 573-486-5400
_____________
CLICK HERE for live music and night life in and around Hermann.
Wiener Dog Paint & Sip at UnColor
March 23 | 4:00 pm - 6:00 pm
$30.00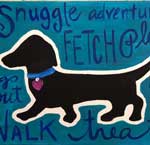 Before the derby, create an original piece of art featuring your champion. Class fee includes supplies and your first beverage. well-behaved weiner dogs on leases welcome. Space is limited. Call 573-486-0227 or 573-486-2787 or email to Uncolor@centurylink.net.