To submit an event to this web site, please contact:
Tammy Bruckerhoff
tourism@hermannmo.com • 573-486-5400
_____________
CLICK HERE for live music and night life in and around Hermann.
Summer Sausage Making 101
November 4
$79.00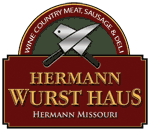 Learn sausage-making skills from Wurstmeister Mike Sloan. Fee includes a two-hour class, wurst meal and two drink tickets, wurst, wine, and beer tasting after class, 2-3 pounds of the product you helped make, goody bag, and 10 percent off in-store purchases that day. Classes start at 10:00 and 2:00. Register online or call 573-486-2266.