To submit an event to this web site, please contact:
Tammy Bruckerhoff
tourism@hermannmo.com • 573-486-5400
_____________
CLICK HERE for live music and night life in and around Hermann.
Garden Club Plant Sale
April 27 | 12:00 am - May 4 | 12:00 am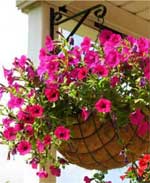 Annuals and hanging baskets are for sale at the Hermann High School greenhouse. Great prices! Plant sale hours are 9:00 to 2:00 Saturday and Sunday, 3:00 to 6:00 weekdays. Sponsored by the Hermann Garden Club.