To submit an event to this web site, please contact:
Tammy Bruckerhoff
tourism@hermannmo.com • 573-486-5400
_____________
CLICK HERE for live music and night life in and around Hermann.
Peepapalooza (The Peeps Show)
October 19, 2019 - October 20, 2019
$10.00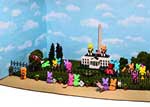 View charming dioramas made of Peeps (yes, we mean those little Easter marshmallows) depicting a popular event or local activity. Fundraiser sponsored by The Giving Council and 12 Hermann charities.