To submit an event to this web site, please contact:
Tammy Bruckerhoff
tourism@hermannmo.com • 573-486-5400
_____________
CLICK HERE for live music in and around Hermann.
Poster Contest Reception
September 8 | 3:00 pm - 5:00 pm
FREE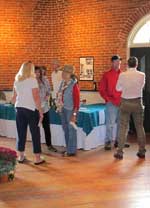 Winners of the Hermann Arts Council's 2018 poster contest will be announced at a reception at the Rotunda Building in the upper city park. Festivities will include award presentations, food and drink, and door prizes. This event is free and open to the public. Sponsored by the Hermann Arts Council.