To submit an event to this web site, please contact:
Tammy Bruckerhoff
tourism@hermannmo.com • 573-486-5400
_____________
CLICK HERE for live music in and around Hermann.
Grill Your Own Steak Night at Adam Puchta Winery
October 5 | 5:30 pm - 8:30 pm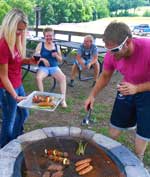 Enjoy our limited special smoked prime rib dinner or bring your own meat to put on the grill. Spices, cooking utensils and side dishes provided. Beer, wine and wine slushies for sale. Live music by Dennis Schilligo from 5:00 to 8:00 p.m. No picnic baskets please. Reserve your spot online or call 573-486-5596.