To submit an event to this web site, please contact:
Tammy Bruckerhoff
tourism@hermannmo.com • 573-486-5400
_____________
CLICK HERE for live music and night life in and around Hermann.
First Annual Cookie Walk
December 15 | 3:00 pm - 8:00 pm
$20.00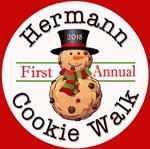 Collect cookies in a decorative keepsake pail as you shop and stroll the historic district. Purchase tickets at the Hermann Welcome Center, 150 Market Street, or online. Order early — a limited number of tickets are available! For online tickets and a list of participating merchants, go to www.visithermann.com/cookie-walk.