To submit an event to this web site, please contact:
Tammy Bruckerhoff
tourism@hermannmo.com • 573-486-5400
_____________
CLICK HERE for live music and night life in and around Hermann.
Movie Night at the Showboat
October 12 | 7:00 pm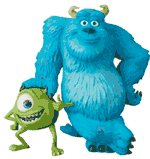 Movies return to the big screen at the historic Showboat Theatre. Monsters Inc. will be shown at 7:00 p.m. Doors open a half hour before show time. Admission is free (donations will be accepted), and the concession stand will be open. Proceeds go to the Showboat restoration fund. Sponsored by E-Free Church of Hermann.