To submit an event to this web site, please contact:
Tammy Bruckerhoff
tourism@hermannmo.com • 573-486-5400
_____________
CLICK HERE for live music and night life in and around Hermann.
Family Movie Night at the Showboat
February 8 | 7:00 pm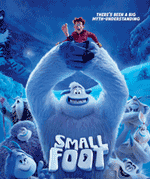 Movies return to the big screen at the historic Showboat Theatre. Smallfoot will be shown at 7:00 p.m. Doors open a half hour before show time. Admission is free (donations will be accepted), and the concession stand will be open. Proceeds go to the Showboat restoration fund. Sponsored by St. George Catholic School; presented by the Hermann Library.