To submit an event to this web site, please contact:
Tammy Bruckerhoff
tourism@hermannmo.com • 573-486-5400
_____________
CLICK HERE for live music and night life in and around Hermann.
Christmas Tablescapes
December 8 - December 9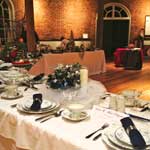 The historic Rotunda Building sparkles with elaborate Christmas table displays. Hours are 11:00 to 4:00 on both Saturday and Sunday. Group tours available by appointment. Sponsored by the Gasconade County Historical Society.