To submit an event to this web site, please contact:
Tammy Bruckerhoff
tourism@hermannmo.com • 573-486-5400
_____________
CLICK HERE for live music and night life in and around Hermann.
Cemetery Walk — Voices from the Past
October 28 | 3:00 pm - 6:00 pm
$10.00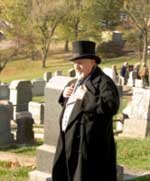 Costumed impersonators tell the stories of persons buried in the oldest portions of the cemetery. Sponsored by the Brush and Palette Club. Proceeds benefit the cemetery restoration project.