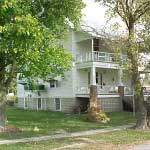 201 Lewis Street, Rhineland
Ken & Melissa Stevens
The Doll House Bed and Breakfast in Rhineland is just off the Katy Trail. Built as a doctor's office in 1921, the home was a rental property for a time and then sold to The Doll family, who live there until 2000. Jeff and Amanda Schaefer purchased the home and turned into a four-bedroom bed and breakfast, named in honor of the Doll family. Ken and Melissa Stevens of Wentzville purchased the property in March of this year and say they are loving their new life here.
From the Welcome Center, go north on Market Street (Highway 19) across the Missouri River bridge. Turn left on Highway 94. Go about four miles to Rhineland. The Doll House will be on your left.