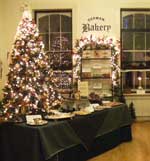 First two weekends of December
Historic Hermann Museum, Fourth & Schiller
Historic Hermann presents "Ein Blick in die Vergangenheit—A Look into the Past." Tours of museum rooms are $5 for adults, $3 for students, free for children 5 and under. A German bake sale features traditional holiday baked items. Free admission to bake sale and gift shop. Hours are 10:00 to 4:00 Saturday and noon to 4:00 Sunday.